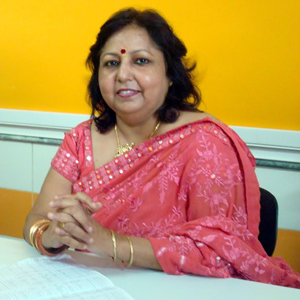 I wonder how swiftly and unnoticed time flies! 29 years of its existence St. Mary's has established itself as a premier institution of learning, providing quality education and I consider it my proud privilege to be associated with such a prestigious institution.
St. Mary's is an institution where students, parents and teachers work co-operatively with a common goal to prepare our children to be ideal citizen for tomorrow.
We all know that today we are living in times where the pace of events is very fast. So fast in fact that today's latest becomes obsolete tomorrow. Alvin Toffler, one of greatest contemporary thinker and writer calls this "the future shock". Constant changes are must. Life is a process of continuous change and we need to adapt to changes.
So when we talk of educating children of today we cannot afford to lose sight of the fact that we must teach them to grapple with the problems of their generation, their society and their world. Yesterday's solution to today's problem would not suffice. The children of today need to be readied for the global stage. This is a generation of young people who are thinkers and enquirers; they have to learn to be articulate and confident to take to the world stage and compete with the best brains in the world. This is exactly what we aim at doing at St Mary's, where students along with academics participate in various co-curricular activities with enthusiasm. Every student gets to participate in the Assembly program. They can choose from various competitions and activities. Every child is a part of Mega events like Sports Day, Annual Day, etc.
The journey with the students so far has been very exciting and our teachers have always been available to guide and help them in showcasing their hidden talents of each and every student. It is very important to enhance the confidence level of the students so that they have a stage daring, they are able to socialize with others. For this their linguistics and other skills too have to be developed from an early age. Math development program is introduced to instill love for Math. Children are our tomorrow – our future. Bright faces that we see here today, evincing their talents, will be the citizens of tomorrow. They may grow up to great personalities of tomorrow. What our children are going to be in future is what we make them today.
We at St. Mary's take this as a prime task to curve, shape and mould our children to prepare them to face challenges in life. Our management has been supportive for all these 27 years of long journey with a dedicated and supportive teaching and non-teaching staff and parents. We look forward in achieving more mile stones and create a history in the field of education. Robert Frost had rightly quoted —
"The woods are lovely, Dark and deep, But I have promises to keep, And miles to go before I sleep, And miles to go before I sleep"
Warm Regards,
Ms Shobhana Jha
Principal,
St. Mary's School